JIM QUICK
Lead Vocals / Harmonica / Antics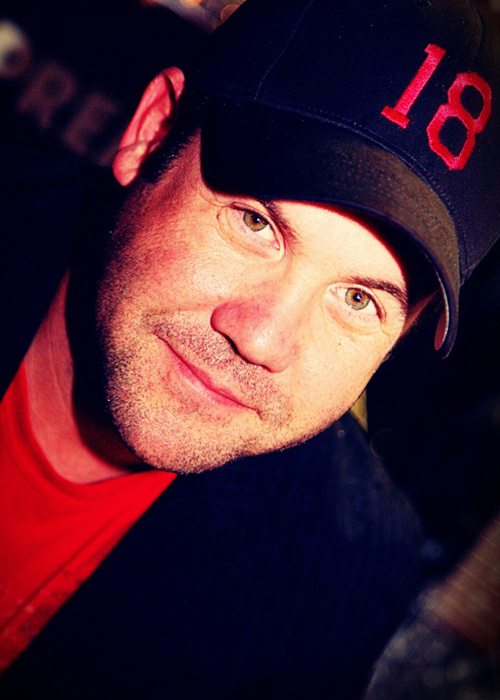 Artist or in person, Jim Quick is the kind of guy you genuinely want to call a friend. With the charm only a true Southerner can possess, he brings his talent to the stage with a quick-witted, knee-slapping sense of humor coupled with the clear sincerity of his love for his craft.
"As a child, I was real mischievous. Playin' pranks and makin' jokes; doin' stupid stuff you do as a kid. People would laugh; the more they laughed, the more I'd act a fool! It was like applause for more, more, more. I loved being the center of attention. Still do. Add music and, well, that's spice to the concoction! That's how I roll."
And "roll" he does. Quick's been touring the Southeast US for more than 20 years, playing nearly 250+ shows per year, and has released more than 11 albums including his newest, DOWN SOUTH. Originally introducing their music as the Coastline Band—a band of friends who played the Carolina beach bars day in and day out—the group pushed Quick to the forefront and naturally transformed into Jim Quick & Coastline. Known for his all-out performances and deliberate, off-the-cuff wisecracks, Jim has been a gracious recipient of the Carolina Music Awards "Entertainer Of The Year Award" – sixteen times.
Those who have seen Quick perform in the flesh may wonder if the funny guy sitting at the bar wears the same suit as the artist on stage. The answer is "yes." "When it comes to me, the person on the street and the person performing are completely the same. As an artist, I am a true, exaggerated version of myself. Magnified. Make no mistake, they are both me, just different sizes."
Born and raised in deep Carolina, Jim Quick grew up with a kind and fun-loving family. He, along with his younger sister and childhood friends, spent countless hours loping across the grasslands. In quiet time, Jim enjoyed visits with his grandfather, a Veteran of World War II, who shared front-porch-sittin' and lemonade sippin' while Sgt. Loyd Merle Quick shared tales of the battle and helped little Jim conquer a debilitating stutter—a budding singer's worst enemy.
"I grew up between the swamplands and the sand-hills of Southeastern North Carolina. I played a lot in the Gum Swamp area, my yard, and nearby fields. I didn't have a whole lot of friends in such a sparse, rural area, so I spent most of my time with my imaginary friends. I was a true Son of the South, exploring the land on my bicycle or on foot, pretending I was one of Mark Twain's characters or a chunky, little descendant of Lewis and Clark."
When he wasn't surveying the lands, Jim discovered his love for music in the confines of his bedroom, sitting in front of his Sears & Roebuck stereo with Radio Shack headphones atop his head. Playing the role of both DJ and performer, young Jim would introduce himself before the next song, with which he'd appropriately sing along. His playful dress rehearsal wasn't in vain. At 14, he secured a job as a radio DJ for a small, local AM station giving him the platform he needed to learn about the entertainment business and create the stage character for which he's known.
"Working at the station was a real blessing. It was a 500-watt, so really, really small, but it provided me a way to learn about a variety of music genres and what went on behind the scenes. It really gave me that extra push I'd needed to finally start making my own music. Now look at me: I'm nearly a dozen albums in and still goin' strong!"
" Strong" is exactly the word to describe Jim's catalog, and his most recent, DOWN SOUTH, is poised to become a best-selling musical novel. With songs such as "I'm A Dog" and "Don't Shoot The Snake," Quick segues the comic relief of Rodney Dangerfield and Barney Fife to teddy bear tenderness in "Hurt That Bad" and "Forever Man". The composition is the kind of music that makes you want to get up and dance, grab a beer (or four), and cut-up with your friends. A melding of the genres that make up the musical culture of the South, including Country, Blues, Soul, Southern Rock and Jazz, Quick's take on music is not to be tuned out.
A smorgasbord to suit any music enthusiast's appetite, DOWN SOUTH was produced by the one and only Gary Nicholson (of Delbert McClinton, Wynonna Judd and Pam Tillis fame to name a few). After sending Nicholson an unsolicited cryptic message through his personal web site claiming to "have some of his money," Quick's clever and intriguing communication captured Nicholson's attention. Within days, Jim was on his way to Nashville to meet the acclaimed music producer and the rest is, as they say, history.
"I got to Nashville and touched base with Gary. He invited me to his home—his home!—and we talked music, of course. Next thing I knew, we'd started picking songs from his catalog for my album! Life is so good. I constantly find myself surrounded by my musical heroes. I get to work with my mentors… as peers! How lucky am I?"
Featuring special appearances by Delbert McClinton and Bekka Bramlett, as well as tunes penned by Nicholson, McClinton, Billy Currington, Paul Overstreet, Randy Houser and more, DOWN SOUTH proves Jim Quick has stand-up, staying power on any stage in any entertainment sector.
"I want my music to be a bridge for many genres; a place where traditional and contemporary music can unite. But, I do love the pure emotion and simple-yet-deep concepts of country music. I'm a Southern boy and it all hits home; the lyrics and roots of the music—from the melodies to chord progressions—seem to strike an ancestral nerve with me."
His devoted fans, the "Coastline Crazies," know it's hardly luck that allows Quick's path to cross with musical greats. It's his musical gumbo and unadulterated energy that keeps fans coming back for more. And, with the release of DOWN SOUTH and his introduction to country radio, Quick is certain to add more "Crazies" to the mix!
Article by Kat Atwood, Music City News